Elephant Waterfall and Coffee Lover Tour
Dalat Countryside Tour
Dalat Hiden Cham, The City of thousand flowers. Join us on this tour to discover the beautiful countryside to contact with locals and explore the most powerful waterfall, Elephant waterfall, we promise to make your day become perfect.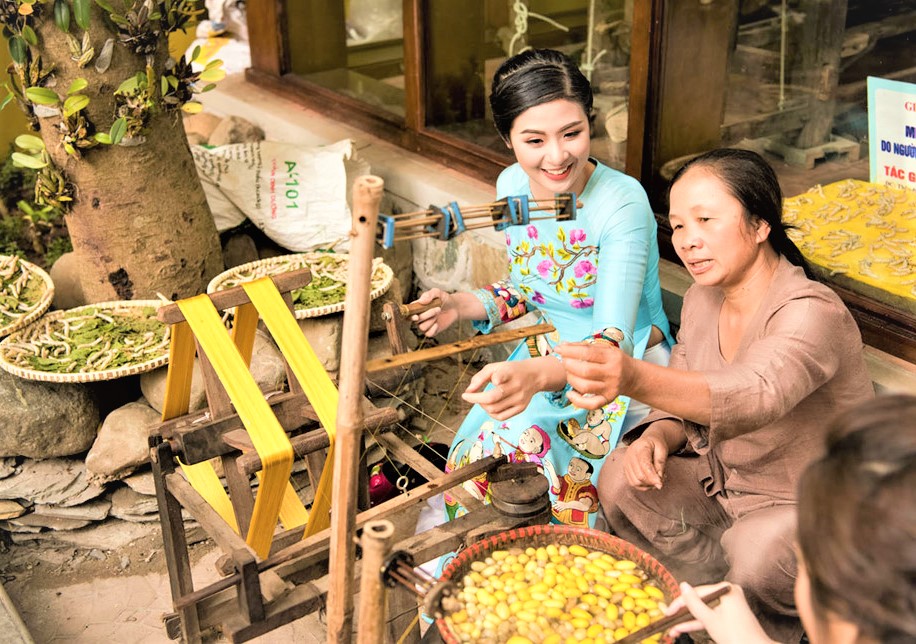 Itinerary.
- Van Thanh Flower Village: One of the biggest villages for growing flowers in Dalat, 7000 Hectares, we visit to see the way and Flower technique they use in their daily work. you will have a chance to contact farmers to listen to their story.
- Ta Nung Ethnic Village. See the original People, Who had been Living in Dalat before french Came in 1893, See what they doing, how they live, the relationship between them and our government.
- Coffee Plantation and Weasel Animal coffee. Visit the coffee plantation, there are many species of coffee inside, for example, Robusta, Arabica, Cherry coffee, see how different they are and try the most expensive coffee in the world Weseal coffee ( 60.000Vnd/Cup).
- Cricket Farm: A specialty in Dalat you must eat to learn how to survive in the Jungle.
- Silk Factory: See the whole Progress of making silk from the small silkworms, cocoons to the final product 100% silk fabric.
- Elephant Waterfall: The most Powerfull waterfall in Dalat. taking beautiful pictures and discover the windy cave to get closer to the falling water. don't come too close, you will be wet.
Description:
- Our Guide and Driver will come and pick you up at your hotel. let start the tour. We will go along the way to escape from the hectic city, we will stop at the first place, Van Thanh Flower Village. Our guide will take you to go into a greenhouse and explain the way they grow flowers. We will answer you some question. why Dalat is the biggest flower city in Vietnam. where we export them. some stories and the culture of offering flower in Vietnam.
- Going Down Tanung Pass you will see the weather and Plants changing from the height of 1600 m above the sea level to 1000m. Visit the K'ho Village, an ethnic village with a different culture. Mother is the boss. Our guide will help you to contact directly to the people over there to know more about their life. how they live. listen to their story to understand more about Dalat.
- Visit The Coffee Plantation. Our guide will introduce to you Many kinds of different coffee, each coffee has a different flavor, Month for harvest. what farmer need to do after harvest to make out the final product. have a look at the weasel cage, you will see the real animal which makes the best coffee in the world, after that you can have a cup of coffee and enjoy the fresh air of the rural countryside with a magnificent lake view.
- We visit the Cricket farm. where the grow thousand of crickets. and animal with high protein. see the farm and know how they grow them. then you have a chance to try some fry Crickets. I'M Sure you will like it, the best food in Dalat.
- Silk Factory: Our guide will Show you the Silk Worm, Silk eggs, Silk Moth. and the way the raising it. get in the factory where they take out silk from the cocoon and use machines to make it become clothes.
- Elephant Waterfall: Water falling down from 50 meters hitting the rocks soaking, many small bubbles flying reflex with the sunshine create many beautiful rainbows. it is a perfect chance for you to take pictures. be careful the way to go down. it is hard so you need to wear shoes it will be better for the experience.
- Linh An Pagoda. A Mahayana Pagoda, Following the north way. located on a small hill with cool winds and fresh air. a peaceful place for locals to come and pray. behind the pagoda is a big statue of Our Future Budha with a big belly so local call him happy Buddha.
Lunch:
We will have lunch at a local restaurant about 50.000 Vnd/person. or any restaurants you want in the city. it based on the demand of customer of food. veggie food for vegetarian.
Advices:
Bring some

extra money

to spend for food and drinks.

Wearing shoes and hat

will be better for the waterfall.
We will bring some umbrellas if it is going to rain. But you should

bring your own raincoat

so you can wear your own one.

Tip for guide and driver

: it is flexible you can tip or not. it is based on how satisfied you are.
Extra information:
Transportation: private car ( =

Pick up and drop

at your hotel or anywhere you want to pick up in the City ( pay extra: 20 Usd if you want to pick up from the airport).

pick up time:

8.30 am

Tour includes

English speaking tour guide. all entrance fee. Car. driver. one bottle of water.

Not included:

Your food
Hiden fee: No hidden fee.
Price for our tour:
We Have Discount for Group >4 people. if you are a big family please contact for the best price.
| | | | | | | | |
| --- | --- | --- | --- | --- | --- | --- | --- |
| pax | 2 | 3 | 4 | 5 | 6 | 7 | 12 |
| Usd/pax | 40 | 35 | 30 | 26 | 24 | 25 | 20 |