Dalat Nature And City Tour



Dalat Nature And City Tour
Discover the beautiful Nature, this tour is a combination of Sceneries, Waterfall, History and architecture beauty of Dalat.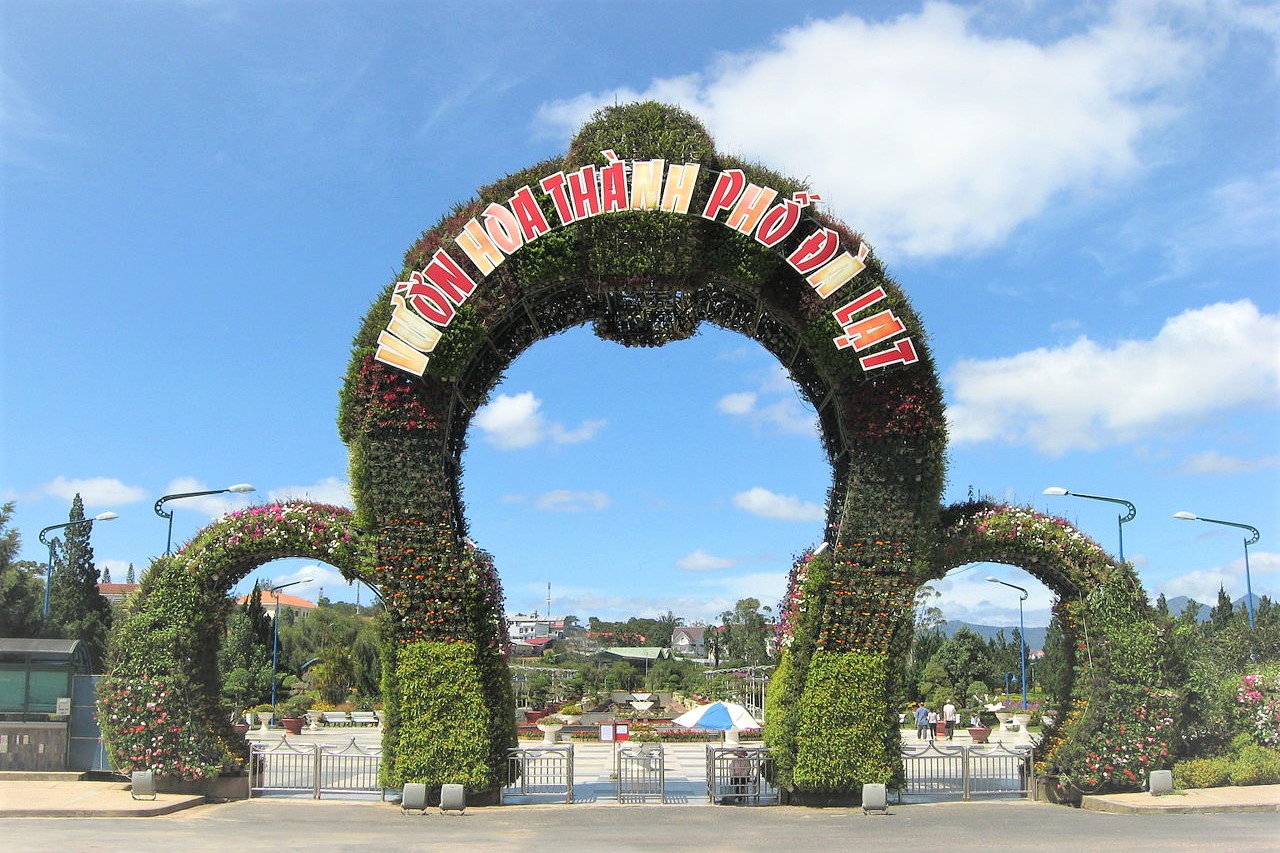 Itinerary
- Robin hill: Have a Panorama view from the height of 1700 meter. they call robin hill due to the scenery looks like Robinhood village in England.
- Cable Car: Enjoin some fresh air in the morning. look at some farms of vegetable and flower from above. the cable quite high and interesting with 15 minutes go above the pine forest.
- Truc Lam Monastery: Feel relax and pray for your fortune. the institute is nice with flower and a green lake located inside. it is a perfect place for meditation.
- Tuyen Lam Lake: The largest lake in Dalat. it is very romantic in the afternoon. when the sun going down. it is the dating place for many couples to enjoin the sunset.
- Datanla Waterfall: Near the city. the waterfall is fun with the alpine coaster to get down to look at the waterfall from the bottom. the water lying down in white color.
- Bao Dai Summer Palace: Know more about our last King and Vietnam history during the French war. See how our King living at that time.
- Dalat Flower Garden: A Huge collection of thousand kinds of flowers. come here to see our native and Europe flowers. a good place for you to take photos.
- XQ Embroidery Art Village: They use silk to make pictures. Embroidery is a traditional skill that every Vietnamese woman have to know. come here to know more about our culture.
- Domain De Mary Church: The church was made in Roman Architecture and local architecture in Pink color. it also a place to help disabled people to work and Live.
Description.
Our guide and Driver come and pick you up at your hotel. We start the tour and heading to

the Robin hill

. There is a beautiful View from the top of the hill, our guide will help you to take some beautiful picture.
Get on the cable car, which was made by Austrian. so it very safe. we descending down from above, see Dalat nature in the morning. hear the bird chirping in the morning. down there you will see some farmers working on their farm some persimmon trees with red fruits, they also have Strawberries farm, vegetable farms that you can have a look.
Visit the Truclam monastery: the biggest monastery for meditation in the south of Vietnam. the place quite big and was divided into four zones. zone for tourist, for monks, for nuns and meditation zone. the monk's duty every day have to take care of flower and trees in the garden, so come here you will like it with the nice, clean scenery and peace of a Buhdist place.
Visit Datanla waterfall. With the alpine coaster winding around the pine forest you can enjoin the cool air and feeling of a bit adventurous. our guide will tell you about the legend of the waterfall and help you take pictures.
Let have a look at our Last King House Bao Dai to see how his life at that time and also know more about our history between Vietnamese and French.

Come and visit the Flower garden.

Da Lat flower garden is a wonderful wedding location for couples to travel to Dalat. Talking to this place, everyone knows that this is the place where all beautiful flowers of Dalat and the world are gathered. At every Flower Festival, the Flower Garden is one of the most popular tourist destinations.
Visit XQ Embroidery Art Village: As a Vietnamese We admire the embroidered paintings on silk created not only by embroidery techniques with colorful materials and colorful fabrics under the skillful hands of the artist, it is simple but also formed by passion, imagination, feelings of the country, people, friendship, love, future or the past.
With about 1-hectare campus about 1km from Da Lat City,

the Domaine De Marie Church

is designed in European style but is more innovative than classical architecture. The church is used for local praying and helping disabled children.
Lunch:
We will have lunch at a local restaurant about 50.000 Vnd/person. or any restaurants you want in the city. it based on the demand of customer of food. veggie food for vegetarian.
Advices:
Bring some

extra money

to spend for food and drinks.
Wearing shoes and h

a

t will be better for the waterfall.

We will bring some umbrellas

if it is going to rain. But you should bring your own raincoat so you can wear your own one.

Tip for guide and driver:

it is flexible you can tip or not. it is based on how satisfied you are.
Extra information:
Transportation:

private car ( =<4 Private 7 seat car. =< 6 persons : 9 seat Van. =<12 person: Private 16 seat car)
Pick up and drop at your hotel or anywhere you want to pick up in the City ( pay extra: 20 Usd if you want to pick up from the airport).
pick up time: 8.30 am
Tour includes English speaking tour guide. all entrance fee. Car. driver. one bottle of water.
Not included: Your food ,

Cable car ticket ( 60.000 Vnd) Roller coaster ticket (80.000 Vnd)

Hiden fee:

No hidden fee.
Price for our tour:
We Have Discount for Group >4 people. if you are a big family please contact for the best price.
| | | | | | | | |
| --- | --- | --- | --- | --- | --- | --- | --- |
| pax | 2 | 3 | 4 | 5 | 6 | 7 | 12 |
| Usd/pax | 40 | 35 | 30 | 26 | 24 | 25 | 20 |